Shufflemixer 100: your continuous aerator and mixer in one
Do you work with a traditional mixer in your bakery? Maybe you rely on a planetary mixer? Do they raise the standard of your bakery products to the highest levels possible? Because that is exactly what the Shufflemixer 100 is designed to do. It is no simple, everyday mixer or whipping system. It is a continuous aerator and mixer in one, combining the best of an industrial cream mixer with patented Shuffle-Mix aeration technology.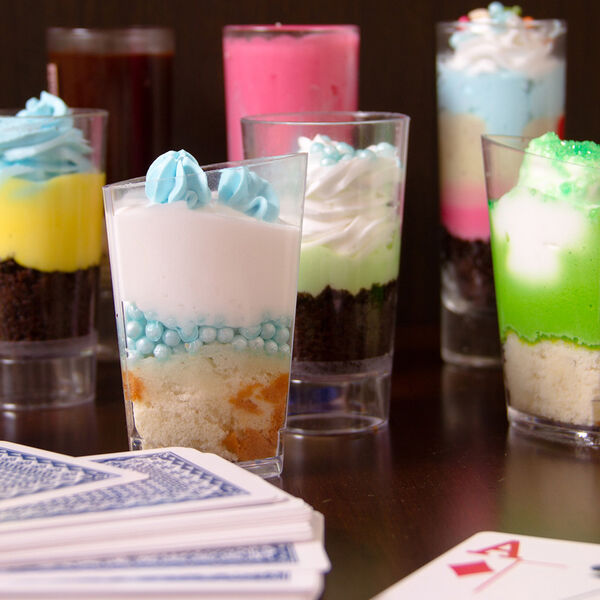 What the continuous aerator from Shuffle-Mix does for you
The Shufflemixer 100 is bakery equipment that combines a continuous aerator machine with a powerful mixer. It makes it as easy as pie to:
decorate patisserie products, cakes, desserts and cream aeration next to no time;
repeatedly achieve the same high-quality results that keep your customers coming back;
keep your production running continuously – a pumping system draws in cream or dough and aerates it in a constant stream, ready for you to apply to cakes, desserts and more.
In short, this all-in-one continuous aerator and industrial cream mixer allows you to work more quickly and produce better results for less money.
The continuous aerator from Shuffle-Mix streamlines your production
Do you have difficulties maintaining your production levels? And would you prefer not to have your bakery cluttered with large, immobile equipment? Then the Shufflemixer 100 continuous aerator is perfect for you!
The '100' refers to the 100 kg of cream or dough the Shufflemixer 100 is able to process every hour.
Decorate cakes and desserts directly from your continuous aerator
The Shufflemixer is a continuous aerator that runs as a closed system. It is far more hygienic than a traditional mixer or beater. It pumps your (semi-)liquid product from a tank and through the chambers of the continuous aerator and – if you wish – directly out through one or more piping bags. It makes it easy for you to rapidly decorate your cakes, desserts and other patisserie products. Without ever touching the mix with your hands.
Your continuous aerator: flexible and user-friendly
There's no denying the Shufflemixer 100 continuous aerator wins hands-down against a regular bakery whipping system or industrial cream mixer. It has been designed to guarantee you a never-before-seen level of user comfort:
You control it with a touchscreen. In fact, you can even use your iPhone or iPad to tell it what to do.
You may not expect it from a continuous aerator that is so powerful and effective, but the Shufflemixer 100 is small, mobile and has been designed to save you space; you can roll it out of the way when you're not using it.
It is easy to connect extra units to the machine, such as a bakery ingredient injector that adds flavours, colours, fruit or gelatine to the aerated product. You can even hook up a cleaning-in-place unit (a CIP unit) to simplify the cleaning of your machine.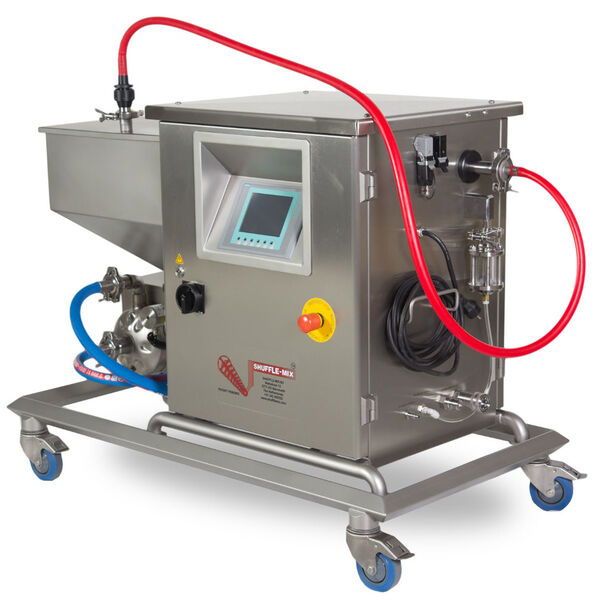 Versatile working with a continuous aerator
What can you create with the Shuffle-Mix 100 continuous aerator?
Whipped cream, Bavaroise desserts and cream aeration of all sorts of mousses;
Egg-white meringues and marshmallows;
Buttercream, (sponge) cake mixtures and biscuit dough.
Compare our continuous aerator with your industrial cream mixer or bakery whipping system
Because seeing is believing, we want you to see the Shufflemixer 100 at work. We are more than happy to give you a demonstration in:
our test kitchen in Barneveld, where you will be able to familiarise yourself with our accessories and all the extra units available;
in your own work environment where you will immediately recognise what a difference a professional continuous aeration machine can make for you.