Dairy (fresh) cream
The Shufflemixer is the perfect system for the aeration of fresh cream. The Shufflemixer can process fresh cream with a fat content from 20% to 40%. Since the Shufflemixer is a high efficient aerator there is no need for extra cooling.
Instant whipped cream
Add the cream to the Shufflemixer storage tank and push the start button. And you get instant whipped cream. A continuous flow of perfect aerated cream. Connect to your depositor or attach a piping bag hose for decoration.
If additives are required, like sugar, gelatine or a stabiliser, Shuffle-Mix can offers various solutions.
Shufflemixer advantages
Continuous production (higher efficiency).
Constant high quality.
Higher overrun compared to planetary mixers.
Less manpower.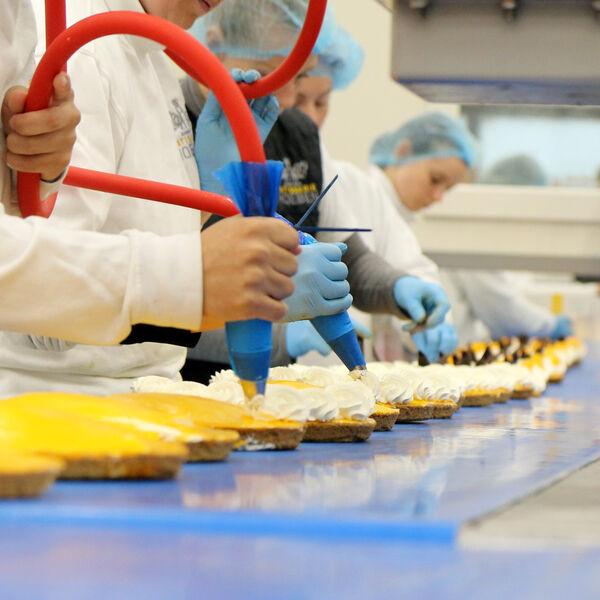 Watch the Shufflemixers in action!
Dairy (fresh) cream

Cream between 20-40% fat

Product on demand
Stable whipped cream
High overrun
Cake cream decoration

Piping bags continuously filled

High productivity
Always fresh product
Flexible in operation
Compare our continuous aerator with your industrial cream mixer or bakery whipping system
Because seeing is believing, we want you to see the Shufflemixer at work. We are more than happy to give you a demonstration in:
Our test kitchen in Barneveld, where you will be able to familiarise yourself with our accessories and all the extra units available;
In your own work environment where you will immediately recognise what a difference a professional continuous aeration machine can make for you.
Would you like to compare the Shufflemixer 100 continuous aerator with your current bakery mixer or whipping system?

Call or email us to arrange an appointment.